Sakura... So entrancing. So sacramental. So fragile. Its blossoming is of short duration. That's why millions of people hurry to have a look at this miracle of nature going to Japan. But you don't need to do it! As you have a unique chance to enjoy the beauty of this impressive magical tree ANYTIME.
Just play Geisha Story slots and get the amazing oriental winnings. Spinning 5 reels of this Playtech video game. Willing to be successful while gambling? Then, put on the bright kimono, take a sip of sake and... You are the real Japanese! Ready for the risky money adventures on all 15 paylines.
Progressive Jackpot
Japan is famous for its cuisine. In particular, for a wide range of sushi. Geisha Story Slots offers you to spice your gambling with Dollar Ball Progressive Jackpot. The moment you start playing, you can try to win it.
Dollar Ball game is like the lotto. So, confide in your intuition and choose any 5 numbers out of 49 possible. The more numbers coincide with the winning ones, the more cash you get. What if all 5 chosen numbers match? Well, it is called Japanese Fortune. As in this case, you become the owner of the Dollar Ball Progressive Jackpot shown in the right corner on the gambling screen!
Jackpots and Coin Sizes
Wisdom of samurai... It will come in handy to you when placing the stakes. Besides the coin denominations such as $0.01, $0.05, $0.10, $0.25, $0.50 and $1.00 offered, you should also select the number of coins per line. Proceeding from the maximum of 10 coins.

Japanese traditions are not so familiar to you? Then, fix the smallest bet of $0.15 and content yourself with pretty modest winnings. However, if the Oriental culture appeals to you... Start spinning the reels with the highest stake of $150 without a moment's thought!
Only the maximum bet can give you a great chance to win the most mysterious Japanese jackpot of 10,000 coins or $100,000. For 5 Samurai icons arising on the screen simultaneously. Hey! Your throat is dry because of the possible fabulous prizes? Then, ask Geisha to bring you a cup of herbal tea. To cheer up and get ready for even more bounties of nature!
Wild Symbol

Samurai will guard and award you with grand wins during the whole gambling. Acting like the wild symbol, Samurai can replace other slots images thanks to his power and courage. He will just surrender to Samurai Master and Geisha symbols.
Each Samurai has got their own SECRETS. The secrets of their incredible force... They consist in the priceless treasures hidden far away from the common people. But you can try to find those striking riches hitting 5 Samurai symbols at a time. Got it? Then... Get hold of the deserved top jackpot of 10,000 coins or $100,000!
Scatter Symbol

It's rather difficult to attain the level of Samurai Master. But... Playing Geisha Story slot machine, you can easily notice such icons on the flourishing reels. Moreover, the more Samurai Masters you manage to collect per spin, the more cash prizes you gain. As Samurai Master is the scatter symbol awarding you with various enticing gifts.
5 scatters appeared when gambling with the maximum stake? Hm... This is not to be trifled with! Cause in this case, you are given the honour to get the most precious Samurai's gift of $7,500. Is it a hard nut to crack for you? Or not...?
Bonus Game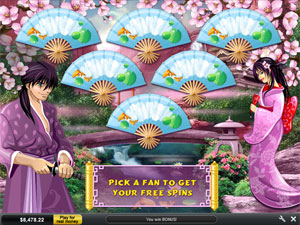 Art of Seduction... Using it, every Geisha can win the heart of anyone. What about the seduction with Free Spins? Will you yield to the temptation when Geisha symbols appear on the reels 1 and 5? So that to start Geisha's Garden Bonus and bring you extra alluring rewards...
You are offered to choose the number of Free Spins and the multiplier. To gamble with during the Bonus Game. First, reveal 1 out of 6 Fans selecting Free Spins. After that, 6 more Fans will be given to you. To pick one of them and determine your lucky multiplier.
The maximum prize of this inimitable feature is 20 Free Spins with 10x multiplier. So, let Geisha's beauty inspire you to make the right choice!
Choosing Geisha Story Slots Machine, you plunge into the enigmatic atmosphere of the enchanted Land of the Rising Sun. With all its traditions, culture, ceremonies... And money prizes, of course! Play online and take delight in the fantastic graphics and Japanese tunes!
Author: Julia Small