Play. Love. Grow. Are you one of 5,7 billion people that fairy tails have a huge impact on? Golden sand castles and everlasting beauty. NOW you can WIN to LIVE your DREAMS with Enchanted Garden Slots.
Magic has enough power to change your life. Just learn the secrets of this 5 reel 20 paylines slot machine released by RTG team.

Paradise is FOUND. I wonder how quickly you start playing this slot game full of mysteries and prizes? Just imagine the pleasure of winning 5,000 coins jackpot that can be turned into $25,000 to make cold reality a little bit sweet. Much more honeyed.
Why Play Enchanted Garden Slot?
Because... To invite magic into your life you can with the coin sizes that vary from $0.01 to $5.00. I started with penny and activated all 20 lines to have more chances to win. Thus, I played with $0.20 that is the minimum bet to cover all paylines.
Actually, I won several times... but was not impressed with the prizes. Clearly, I decided to switch for the larger coin size and start playing with $1.00 per spin ($0.05 coin size). I was lucky to win $125! But then continued playing and even magic didn't rescue me :(
I spent it all. However, it was a moment to remember.
To sum up:
GRRRREEEAT Free Spins to be elated ($75,000 prize - isn't a good start?)
Fairies help you to be rich (and

double your awards

)
Higher bets – the best way to win more
Luck and magic can fly away like fairies – enjoy it in time (to make your life

sweet

)
Free spins, multipliers and your own little PIECE of HEAVEN reached!! Now after reading this review you can play smart and know for sure when to play and when to stop ;)
Wild Symbol

A true pleasure to use, this slot invites you into the world of GENTLE NIGHTS whispering you about great treasures hidden. Tiny but powerful Fairy Princess is the wild symbol. She doubles your wins every time you meet her on the payline.
This stunning lady appears on the reels 2, 3, 4 and 5 only. Just don't frighten her away with your greedy thoughts.
Play to feel magic. To win more with this lady in combination of 4 Unicorns. That's your true way to a big thrill – the top jackpot of 5,000 coins.
Scatter Symbol

Enchanted Garden is the scatter symbol. Just load more fun with these symbols scattered on the reels. Starting with 1 Enchanted Garden symbols you can activate Free Spins.
Starting with 2 symbols of this magic place you will win some cash. What exactly? How about 200 times your total bet multiplier for 5 Enchanted Garden icons? In this case you can win up to $20,000 per spin.
Obviously, to get such tempting award you should play with the maximum total bet. Just $100. It is not much to make your life a real fairy-tail, isn't it?
Free Spins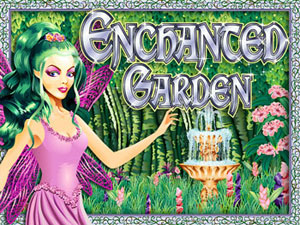 To activate Free Spins is like to grab hold of the good life. Gentle Fairy Princess appears on the reel 5 and magic Enchanted Garden waits for you on the reel 1. This destiny-make combination wraps your heart with romance, new dreamy design and great awards.
All your prizes are tripled! Just imagine you can get 15,000 coins or $75,000!!
To win such a prize you need to get 4 Unicorns and 1 Fairy Princess. There are also FIERFLY marks. You can find such marks behind the usual symbols. They bring you good luck, because for every such symbol you get 3 more Free Spins.
Thus, Free Spins is a quick access to impressive awards. Just play smart and know when to STOP and ENJOY your prizes.
Random Progressive Jackpot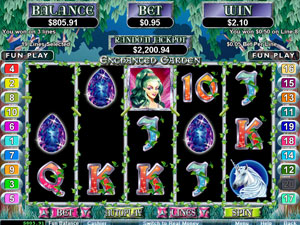 I wonder how long it takes for you to win Random Progressive Jackpot? It hits at random. No special symbol combinations are necessary.
No extra bet to place. Enjoy the slot machine as usual and let the magic enter your every day life. Just enjoy the flights of fancy and play to win.
Dreamy and bewitching. Enchanted Garden slot machine takes to the sensual world of magic.
All this become a reality when you click Play button to indulge yourself into the irresistible atmosphere of great prizes, sparkling design and generous fairies.
Author: Emily Stafford