Revenge is BLIND! Put your bloody costume of a Man without Fear and play Daredevil slot released by Playtech gurus.
If painful betray is in your to-do list, dive into the cruel world of 5 reel 20 lines. No Ben Affleck. Only Matt Murdock with his sexy Elektra and merciless Bullseye.

Fight to death... or win with the favourite heroes and cold revenge coloured with red blood. Show no mercy till the lights go out!
Progressive Jackpot
Play with life to get multi-level progressive jackpot. It hits at random. Actually, there are 4 (!) progressive jackpots - Power, Extra Power, Super Power or Ultimate Power.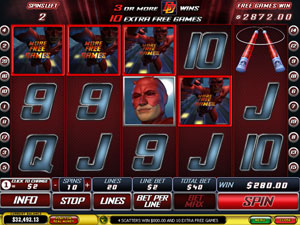 To find out how much you can get, watch the tickers above the reels. How to win them? When the feature activates (at random) you will see the table.
Here you need to choose 3 identical symbols. Each symbol represent the jackpot granted. The symbols you match show you the jackpot you win.
Revenge needs time to become cold. However, this rule doesn't work here. You have time limit to match the symbols. Otherwise, everything will be done automatically.
Jackpots and Coin Sizes
The coin size selection is the same as for many Marvel slots released by Playtech. You can start with just a penny and increase up to $5.00.
With the opportunity to bet up to 10 coins per line you can reach the impressive bet of $1,000. Huge bets can lead you to the high prizes... as well as guarantee high risks.
If you are not sure in your skills and luck, play with the smaller bets. The minimum figure to start is $0.25. Anyway, the prize of 5,000 coins can be yours if destiny is fair.
Wild Symbol

Blind but still fearless Matt Murdock is the wild symbol. Meet him on the reels to save your life and substitute for other symbols.
Justice is for all! Just let yourself to win really incredible prizes. Thus, with 5 wild symbols on the payline you win the top jackpot of 5,000 coins or $250,000.
Scatter Symbol

The DD Logo is the scatter symbol. The maximum scatter prize is 100 times multiplier. The simple rule is to play with high stakes and get the best wins.
Of course, to get a prize of $100,000 for 5 DD Logo is not so easy taking into consideration $1,000 bet. However, to win $10,000 is possible with $100 bet. Just choose the coin size of $0.05.
Bonus Game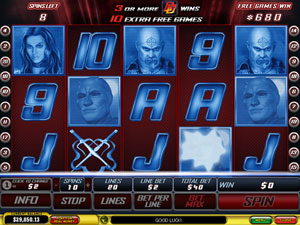 How do you kill a man without fear? Bullseye: By putting the fear in him.
No fear! Bullseye Feature will multiply your total bet by 3 times.
Just click on any symbol to place bullseye target. When Bullseye symbol stops under the target symbol, the prize is yours.
The target will be on the same place till you move it. You can shoot during the main spins only.
Free Spins. With 3 or more DD Logo you activate 10 Free Spins. No one can say what your fate is as well as what wild symbols appear in this feature. Everything is at random.
However, something we know for sure. You will always have from 1 to 3 random wild symbols after every new spin. They can substitute for other symbols except the scatter.
Retrigger Free Spins infinitely. Play till your thirst for vengeance be soothed.
Author: Emily Stafford