If you are afraid of the dark then you shouldn't launch Count Spectacular Slots Machine... Creepy bonus features, toothy Free Spins, biting Multipliers and furious Progressive Jackpots lie in wait for you at every turn here... But if you are ready to meet up immortal evil released by RTG then let's go to the mysterious castle full of otherworldly creatures!
When the night comes down horror and dread possesses 5 reels and 25 paylines... Here you can meet your doom or stay alive and enrich yourself with $50,000. But are you ready to risk your life to get the prize?.. Let's check it out while walking around this dreadful place.
Jackpots and Coin Sizes
Dracula desires your blood and also your stake... So, you have no choice but pick among coin sizes that vary from $0.01 and up to $5.00. Place the maximum bet of $125 per spin to get the chance to save your life and also win the biggest prizes of the killing game.

Thus, if you set 25 coins of the highest value per spin and manage to catch 5 symbols of this immortal bloodsucker then the most beastly jackpot of $50,000 will be yours. But also you can become a part of this devilish nightside... Who knows maybe there you will get even more profits?..
Wild Symbol

What do you say about the chance to get immortality? Then you should seek for the meeting with Count Spectacular on these terrible reels, because it's not only the oldest vampire in the world, but also a wild symbol.
This bloodthirsty symbol puts fear in hearts… Even the ugliest creatures are afraid of him. Thus, it can expand on the reels when appears to frighten everybody. In the way it replaces any other symbols including scatters to bring you more and more bloody coins. You can try to catch this rapacious vampire on both reels 1 and 5 to get all Dracula's gold! But can you do that?

Scatter Symbol
Dark Castle is the mansion of Dracula and also a scatter symbol. Only one sight at this Castle gives the creeps... But 3 or more such horrible Castles give you devilishly huge Multipliers!
Herewith, if you have enough courage to get 3, 4 and 5 mystic scatters you will increase your total bet by 2, 20 and 200 times accordingly. So, maybe, you will screw up your courage to go for a walk around this creepy place?
Bonus Game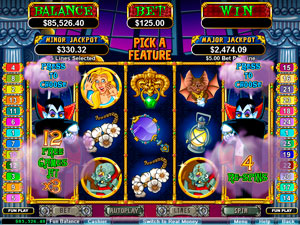 What the hell is going on here? It's true black magic! Count Spectacular is on the 1st and 5th reels at the same time!
Then you should be very careful, because Count Spectacular Feature starts…
Here you are to choose between bloody 12 Free Spins at 3x Multiplier or frightful 4 Re-Spins. What will you choose?..
But you should note that you have time only till sunrise… Herewith, if you choose the first variant you will get the might of re-triggering.
Thus, you can catch Count Spectacular on the reels 1 and 5 simultaneously again to prolong Free Spins.
But if you choose the second variant then the night can be pretty short to get the top jackpot... However, you have 4 chances to cut a melon. Oh, by the way, Count Spectacular will stack and block the reel 1 and 5 to help you in it.
Progressive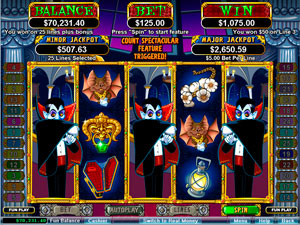 Count Spectacular can be pretty magnanimous... You can even feel it. Just play for cash and try to bite one of two random progressive jackpots here!
You don't need to collect any special combinations of symbols or something like that.
Rely on your luck and pray… Maybe the next spin will turn your life on head for ever and ever...
Immortality, mind-boggling riches and creepy features... Get all that and hunt down Dracula spinning the reels of this online USA slots.
Bloody adventures call you. Meet your doom or grab devilish prizes at Count Spectacular Slots when the night comes…

Author: Sharon Walker