There is no love sincerer than the LOVE of FOOD. Yeap, George Bernard Shaw was quite right saying that. At least, one French culinary genius is of the same view and... He gladly invites you to a sumptuous Microgaming restaurant. To treat you to the YUMMY dishes and... Bring you the spicy money prizes at Big Chef slot machine!
But entering this 5 reel eating house in a no download version... Well, you can be out of heart indeed. As all the tables are RESERVED. No wonder, actually! Every gambling gourmet is eager to relish the spinning delicacies including the top juicy jackpot of 50,000 coins prepared by the maitre. And what about YOU? Is there no chance to give joy to yourself with the HIGH CUISINE on 15 paylines?
Hey, don't get upset! As the doors of the HOT kitchen are open just for you! There you will catch sight of the winning cooking mystery with all the stoves on. To fry the toothsome Free Spins Bonus with 2x Multiplier and Rising Wilds done to a turn. Moreover, 1 Free Spin baked in the slots oven will hit your taste and... Make your mouth water!

Jackpots and Coin Sizes
While the Chef is doing his appetizing magic, the waiters are moving to and fro with the trays full of viands and... Bills for the satisfied visitors. To pay them, just cash is needed. To be more precise, the coins of $0.01, $0.02, $0.05, $0.10, $0.20, $0.25 and $0.50 values should be taken out of the wallets. You're able to use from 1 up to 10 of them on each restaurant payline.
As it is a French brasserie, the prices are quite low (the dishes are HIGH-CLASS though). So, the largest stake bill for a meal can be $75 whereas the cheapest bill is only... $0.15! Yeah, it's not a joke! Herewith, all the products are fresh and healthy.
Is your belly rumbling? It surely feels like filling itself with some goodies. Hey, don't let it beg you! As it's so easy to get the biggest bet of $75 ready and... Wait until you are served with the most finger-licking jackpot of 50,000 coins or $25,000 brought along with 5 boiling Logos. Well, BON APPETIT!
Wild Symbol

Each cooker with the Big Chef Logo shows you really WILD BURNING process in the slots kitchen. Aren't afraid of scalding yourself? In this case, look for the Big Chef Logos replacing other dining images except the scatters and... Lay your hands on the extra winning combinations. Ouch! Piping HOT!
When the cooking spinning is in full swing, you may face 5 wilds at once. Oh, hardly any person can stand such a culinary heat. However, make a try to do that thanks to the maximum cool stake equal to $75 or 150 coins and... You will be awarded with the highest delicious jackpot of $25,000. Voilà! This grandiose treating will satiate your gambling hunger in a romp as well as So Much Candy slots can sweeten even the low-spirited day.
Scatter Symbol

By the way, it's high time to cast an eye on the Scatter Menu. Offering you the flavorous Starters, savory Main Courses and sugary Desserts, the slots Menu will amaze you by a variety of the scattered prize dishes and winning features.
In such a way, finding 3, 4 or 5 Menus on the table, you will increase your total bet by 5, 20 or 100 times respectively and... Start indulging in 10 Free Spins going along with 2x Multiplier. MMM! That's a real jam... So, it's better to take a fork and a knife as soon as possible.
Is the three-course dinner not enough for you? Oh, you're a HUGE eater, aren't you? Then, just the scatter specialty of $7,500 from 5 Menus paid with the largest bet may suit you.

As you can see, it is prepared for the real fine dining devotees that are good and hungry.
Consider that your meal is over when the plates with the glasses are carried away? Hah, not always. Cause once in a while, the silver Cloche that is another scatter symbol may appear in front of you on the reel 5.
What is hidden under this scattered Cloche? Oh, there is 1 additional Free Spin triggered during the Base Game and bringing you the Rising Wilds from time to time. It's a crispy chance to regale yourself with MORE and MORE dainty and money-making dishes!
Bonus Game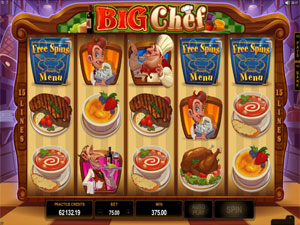 Order after order... Phew! Neither the Chef nor his kitchen hands can take breath for a moment. But in a sweat, they won't forget about you. How can this be? :-) So, just thumb through at least 3 Scatter Menus and... The smiling waiter will be in a hurry. To deliver the toasted Free Spins Bonus. Right off the stove!
Well, put a napkin and taste 10 Free Spins to the top of your bent! Besides, all the gustable winnings will be doubled during this feature. All in all, you are able to gain up to $750,000 (or 1,500,000 coins). Wahey! But can you swallow that ENORMOUS yumminess?
Are you deaf and mute while partaking the FREE meal? That's right! Nevertheless, your eyes should be wide open. Not to miss the wild symbols turning into the Rising Wilds that can reach the top row and create the cooking trail of wilds.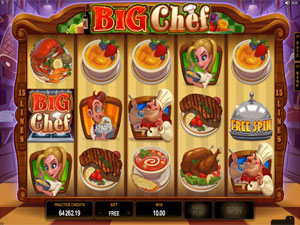 What is more, the lipsmacking Rising Wilds may be also revealed within the main game. As soon as you are lucky to come across the Cloche picture on the 5th reel, you will seize 1 Free Spin.
If the Big Chef Logo emerges that time, the Rising Wilds Feature is activated in a flash and... The symbols with the cookers turned on lift up to the upper position of the reel. So that to award you with the extra seasoned prizes.
Delightful odor of food... Oh, smelling it on an empty stomach, you can easily go off into a faint. Oh là là! A chubby flavor valuer won't let it happen at Big Chef video slots. Not for all the culinary world!
That's why, holding a lavish gambling banquet, this man – the heart of the reel restaurant – will ask you to play for real and... Enjoy your meal online!

Author: Julia Small