Have you some superabilities? Then maybe you should better launch X-Men Slots to test your DNA, because there can be some gainful changes… Spin 5 reels of the game to unleash your hidden powers and maybe then the secret of $500,000 will be revealed.
Here you have 25 paylines to explore no download mutant world of Marvel powered by Playtech. Use your new supernatural abilities to make a hand of Free Spins, bonus features as well as take away Mystery Marvel Progressive Jackpot. Do you feel the might of winnings? The most dazzle adventure of your life starts!
Jackpots and Coin Sizes
Note that everything has own price… Are you ready to go extremes to get the ultimate prize? Here you just need to choose and make your stake. Herewith, you can play with up to 10 coins per line and up to 250 coins per spin.

But the value of each coin betted can also vary among only one penny and up to $5. Not your new mutant powers, but the highest bet of $1,250 and 5 Wild symbols can bring you the half a million winning. Of course, here you can place $0.25 per spin and also win, but not so tempting prizes…
Wild Symbol

More winning combos and powerful prizes… Wild is a wild symbol of X-Men that also has some supernormal abilities. Thus, it can replace any other symbols preventing to be them and finishing gainful combinations.
Furthermore, it's the symbol that can bring you $500,000 if play with the max stake. But there is one more symbol that can resist the power of Wild inasmuch as it has own might…
Scatter Symbol

X-Men Logo can show you the way to the most profitable battle between heroes and villains. It's a scatter symbol that can bring you crashing prizes and bonus features even without gathering any combination.
Plus Logo can wear down paylines activated… In the way you can get 1x, 5x, 25x or mighty 200x Multiplier for catching 2, 3, 4 and 5 X-Men Logos anywhere on the reels respectively. But only 3+ scatters will start the most smashing fight… Are you ready for it?
Bonus Game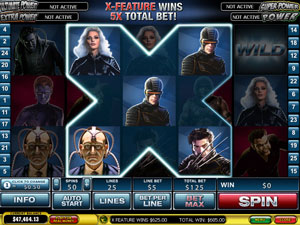 Changes… They are fatal. Especially, in case we talk about your DNA or about X-Feature. Nonreversible changes and increasing of your total bet by 5 times can start at any moment…
So, you will feel the might of mutants when heroes Professor Xavier, Storm, Cyclops, Wolverine and Nightcrawler appear on the reels 2, 3 and 4 forming an X-shape.
The main fight of good and evil will start as soon as you gather at least three X-Men Logos anywhere on the mutant reels.
Just because Heroes vs. Villains Free Spins Feature with two modes will be triggered. But almost all depends on the mode you play here…
Thus, you can get unlimited number of Free Spins in Heroes Mode. Here you can meet only heroes, Wild and Magneto…
But everything can change when mighty extra wild Magneto appears anywhere on the 3rd reel to trigger the feature into Villains Mode.
So, if you play in the second mode you will get 8 Free Spins only. By the way, you should be ready to meet with true evil presided by main villains as well as Wild and extra wild Professor Xavier that can save you…
Herewith, if Professor Xavier appears anywhere on the reel 3 you will appear in the Heroes Mode. See who will be the winner in the fight here with your own eyes…
Progressive
Use your new mutant powers and mighty luck to win one of 4 Mystic Marvel Progressive Jackpots. One of this several thousand prizes can become yours at any moment of the game.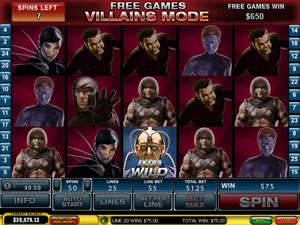 Keep spinning reels and maybe it's you to be a lucky devil to cut a melon today. But…
To reveal the prize you need to pass one more test. Hurry up to guess where 3 similar symbols are hidden among 20 squares and find out what jackpot is yours. Can you get over that?
Adrenalin rush, hazard and supernatural abilities are waiting for you on the reels of no download X-Men Slots.
If you are ready to hear the truth about your DNA then launch the game and start your mutant adventure right now!

Author: Sharon Walker