Let's make a gainful trip all over the world with Tomb Raider – Secret of the Sword Slots Machine. Launch the game by Microgaming, of course, if you are ready for dangerous adventures at Bonus Game and profitable firefights at Free Spins Features...
Bring more action and coin wins to your day-to-day life spinning 5 reels. Use all 30 paylines awarded to find all parts of mysterious sword... Thus, just play online to become a companion of charming Lara Croft at hazardous pursuit for money-making relics. Hurry up, because no download adventure starts right now!
Jackpots and Coin Sizes
Jungles hide lots of dangers and treasures... Not all but just a few can find the riches that cost of up to 7,500 gold coins. Eager to try to get all of them? Place your stake to start the pursuit. Moreover, here you are free to choose as the number of coins that can be up to 10 per line so their size that ranges from $0.01 up to $0.20 per each one.

Take with you the strongest weapon of $60 per spin to shot down the largest treasure of the jungles. So, remember that only if you bet all 300 coins with the highest value per game you will get the chance to hit impressive jackpot of $15,000. And it will be yours for the combination of 5 Lara Croft Portraits. Risk and win! Can you?
Wild Symbol

Charming, curvy and killing... Let me introduce Lara Croft Portrait that is a wild symbol. Pretty face, sharp eyes, sensual lips... All that can captivate anybody and anything including regular symbols.
It's the reason why all other icons except Passport and Excalibur Key can be replaced by Portrait. Moreover, many people desire to catch the adventuress...
It's no wonder why, because here you can get seducing reward of $15,000 for 5 wilds, as you could have already heard.
Scatter Symbol

Excalibur Key is so desired relic and also a scatter symbol. This ancient and mystic thing is very powerful one. It's so mighty symbol that can act without creating combination and, what is more, nevertheless activated paylines. Yeap.
Plus, you can use it and boost your stake by 2, 3, 20 or 100 times for finding 2, 3, 4 or 5 scattered Keys respectively!
Try to reveal the secret of free coin winnings at Free Spins Feature using the scatter here. Just manage to find 3 or more Excalibur Keys on the adventure reels of the game and you will get such a chance. But can you get over the quest?
Bonus Game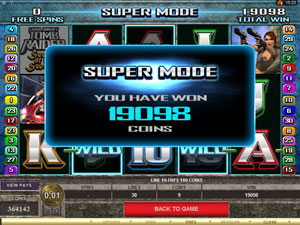 Here you can't definitely know what is waiting for at the next turn... Random and so gainful events can take place on the reels at any second.
So, keep playing for cash and who knows maybe the next game will activate Super Mode.
Here you will get 5 Free Spins to grasp as much more free gold coins. Plus you will be randomly awarded with multiple wild positions that will be held during the feature. Catch the moment, because it can't be re-triggered.
Excalibur Key is special symbol and also a key to 10 Free Spins... So, just manage to collect 3 or more scatters and win for free. Moreover, here you will get unique Rolling Reels Feature that promises even more and bigger prizes.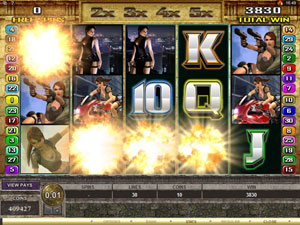 Herewith, every winning combination will bring you not only coin win, but also explosion... Yeah. Explosion of symbols that give you the chance to collect more combinations and in the way more winnings for one free spin made!
It's not the end of your mind-boggling supergainful features to get during free spins last. Just because every Rolling Reels win will increase your multiplier by one step up to 5 times. But if you have no prize hit the multiplier will reset...
Don't forget to take Passport with you before you start your dangerous trip, because nobody know where you are to go to get the fragments of mystery sword. Besides, it's only symbol that can activate all 5 reels and begin your Global Adventure Bonus.
Hence, if you catch Passport in the middle of each reel the travel across the world in pursuit for money-making parts of the relic will begin. Choose the location to get more adventures, wins or even grasp the ultimate treasure...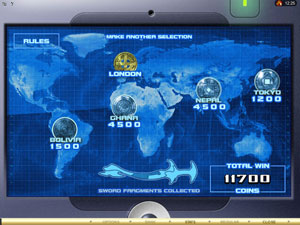 Lots depend on the choice made, because you can get as Hidden Treasure Bonus so strike booby traps. Be beware, because two traps and your trip will be ended.
But if you are a lucky today and you choose the bonus round then you need to find as much more free place for dizzy wins!
So, during Hidden Treasure Bonus you will get plenty of gainful choices. Just try to make the best shot and you can even get up to 70x Multiplier for the average weighted stake made as well as win:
ALL WINS for location
2x Multiplier
a bonus value
Shootout Bonus
If you pick the last one then you will get the chance to improve your shooting skills. There are 15 discs that hide various prizes... Choose the aim and make a shot to reveal the prize you won. Can you get over that?
Start your adventure day playing Tomb Raider – Secret of the Sword Slot! You can find all fragments and try dangerous but so profitable bonus features at the best online casinos by Microgaming from the list here.

Author: Sharon Walker