Almost all thinks that death is the end... But not for love. And even if it's love of evil spirits. All fan of adventures and thrill-seekers can start the gainful trip to no download Egypt released by Playtech to satisfy curiosity of afterlife. Here you have 5 reels and 25 paylines to reveal the mystery of Book of the Dead...
And if you are one of those people, who think that you should better be afraid of alive than dead ones then launch The Mummy Slot to change your mind. Try to survive and stay in the world of alive while spinning the reels of the game. Beyond DEADLY 8 bonus features lie in wait for you in dark depth of the pyramid.
Jackpots and Coin Sizes
Dodge ancient zombies, evil spirits and read Egyptian symbols for cash and maybe you will find the largest mummy's treasures here. And what are you ready to bet to get the chance to hit the main riches of the mummy that is $250,000 and also to save your bacon...?

And here you have a freedom of choice among values $0.05, $0.1, $0.20, $0.5 and also $1 for single coin per active line. So, you can bet max $25 per spin and try to win your life and the biggest prizes of the ancient Egypt. Just read all signs correctly to gain more...
Wild Symbol

Fierce, BLOODY and so wild symbol of the Mummy can appear on the reels 2, 3 and 4 to fright you to death with the winnings...
Because it can replace all other symbols except scatters, bonus and free spins symbols to bring you more winning combos and herewith money prizes.
And also depending on the bonus feature you play you have not bad chances to meet expanding or multiplying Mummy...Are you afraid already?

Scatter Symbol
The Mummy Logo has also some mysteries of unique features... You can hit great money prizes as $3,750 for five such Logos independently of paylines activated. Magic? No, just scatter symbol of The Mummy.
So, use the power of this special symbol to benefit as much as you only can betting max stake of $25. Spin the reels and watch the Logo appearing and get various multipliers for your total bet.
Bonus Game
Take one useful advice that can save your life... Before you start your dangerous trip to Lost City Adventure Bonus you should better learn some particular Egyptian symbols. Just because it's so needed knowledge to find the treasures and not to lose your way in the tomb of features...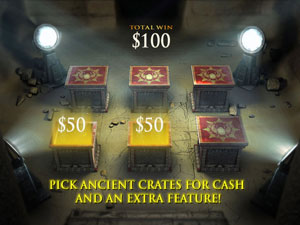 So, first of all you are to choose boxes and get some cash for that, and maybe win more bonuses to play. And let's see the map of bonus rounds you can try at this random feature.
Collapsing Reels. Love can be really omnicrushing... So, be ready that symbols that create the winning combo can be destroyed and new symbols will fall down.
Thus, you can get more and more money prizes for free! I wonder how much will gain you with this feature...
Mummy Power. I'm curious if you are ready to see the power and might of awful mummy? And if it is too much for you then try to avoid the Mummy symbol...
Because here wild icon can as replace other symbols, so multiply your wins. So, 1, 2 or 3 the Mummys in the combo will enhance your prize by 3, 6 or 9 times respectively.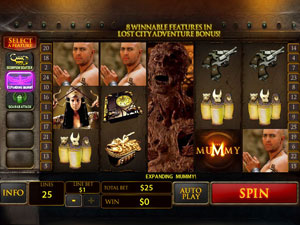 Expanding Mummy. More fear and more money wins can be yours with scary Expanding Mummy that turns the whole reel wild when appears.
Scarab Attack. Watch out hungry scarabs that become really wild! Catch one the Mummy symbol on the reel 3 and two extra wilds will be added on the reels 2 and 4.
So, try to keep your whole skin and grab as much more wins with additional wild symbols.
Mummy Respin. The Mummy symbol can freeze not only the time but also reel where appeared. So, here reels can spin till the next prize appear. Yeah, this awful creature is so unpredictable...
Scorpio Scatter. Get stinging wins with additional scatter symbols of Scorpio King and its unexpected huge payouts.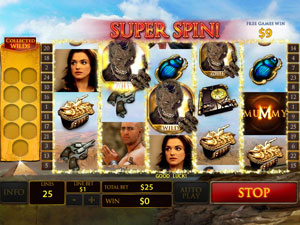 Free Spins. Catch three special Free Spin symbol on the reel 1+3+5 to make your time even more thrilling, because in the way you will get 5 Free Spins plus 1 Super Spin!
Catch wilds during free games and collect up to 9 of them... For what? Just because during 6th Free Spin all accumulated wilds will be disturbed on the reel 2, 3 and 4!
Mummy Hunt. Let's hunt down as much more mummys to hit more cash. Do you want to try yourself in it?
Then manage to catch the Mummy Hunt symbol on 1st and 5th reels simultaneously and you will get such a chance.
But be careful and save your head on the shoulders in the truest sense of the word...
Try all these features one by one... Prepare for all-out battle for your life and money prizes. Play for real this no download slots to thrill and adventure your time with gainful The Mummy.

Author: Sharon Walker