Smash, Violate! Feel the power of a huge green man - good inside and so dangerous to the eye. Incredible Hulk video slot will give you a truly heroic strength and staggering jackpots!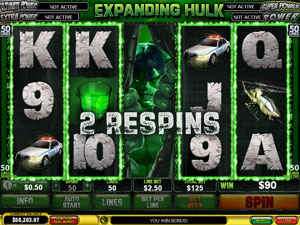 Enjoy a surge of power and fight for your deafening prize! Smash police cars, blow up helicopters. The strength and power is felt through the high realism and dynamic graphics. Lots of fun guaranteed!
If Incredible Hulk is your true self, play for free. Win real money!
50 lines and 5 reels - a great opportunity to touch the world of dangerous villains and fight with guards. In any case, to rescue decent people, to give your life for the right cause and the right prize 40,000 coins - $160,000 - isn't it a real "hot" adventure?
Progressive Jackpot
Try your luck with four Ultimate Power progressive jackpots . All in capricious fortune hands - these jackpots hit at random. You will see a table with 20 squares.
Pick 3 identical symbols - and the jackpot is yours. Which of the four? The symbols match reveal the mystery. Hurry up! You only have a few seconds to find your happy symbols.
Prizes & Coins
If the risk is in your blood, The Incredible Hulk is just another opportunity to tickle nerves. With maximum rate of $2.000 you can find out what a pure hazard is. In general, you can play with $0.01 to $10 per line.

This means the minimum bet on all 50 lines total is $0.50. Try different combinations and do not forget - the more lines, the more chances to win. Play online with guaranteed prizes.
Wild Symbol

Dangerous Hulk - Wild symbol (Wild). Clearly, it substitutes for other symbols to complete winning combinations. Plus - Hulk beats up at 3 reel to reveal all his power.
This green bruiser smashes the whole reel, breaking all taboos! 2 Free Spins is yours. Moreover, with 3 Hulks activated! Sometimes, if the Hulk's anger is not a joke, it can destroy all 3 reels! Let's estimate how much money it promises :)
Scatter Symbol

Logo - scatter symbol (Scatter). This means no lines. Just catch three or more Logo and the prize is yours.
The maximum possible prize for 5 Logo is 100x multiplier. $100 for just a $1 bet - sounds interesting?
10 Free Spins and all your prizes multiplied by 3X. All that you get just 3 or more Logo symbols. Treat yourself with a 120,000 coins prize! And maybe your rage subsides?
Bonus Game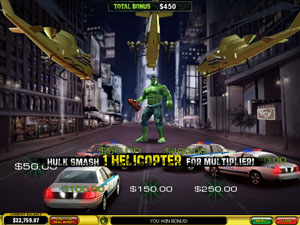 Give the green light to the cash flow that sweeps away all obstacles in your life! Crush your problems with Hulk Smash Bonus game.
All you need is to get the Smash Bonus symbols simultaneously on reels 1 and 5.
Your aim is police patrol cars. Just smash them with fiery explosions to get the "warming" sums. Three attempts - three prizes .
Done with cars? Now turn the helicopter. Select one of the three, expose your fury and throw a fiery red hydrant.
All depends on your choice ... and good luck.
The luckiest can reach Rage Hulk bonus feature. Now you can smash all 7 patrols and get all 7 prizes!
Fury reached the limit! Play Online and enjoy ;)
Author: Emily Stafford