Deep blue ocean hides a lot of mysteries to reveal and treasures to find. Great Blue slot machine released by Playtech is another chance to dive deeply into relaxing soothing waters with waves of luck to excite you.
5 reel 25 paylines to swim along the cash flow to the hot sources of fun. Play online with huge Whale to bring you the best prizes and light-hearted mood.
Even sharks are generous in this ocean of abundance and joy. Swim with funny turtle to find out all the secrets of long happy life and play for real money now.
Jackpots and Coin Sizes
Remember that when you want to return to some magic place you should throw some coins into the water. It can be a fountain, river or huge ocean. Here you can throw such coins as $0.02, $0.05, $0.1, $0.2, $0.5, $1, $2, $5.00, $10.00, $20.00. Yeah, the choice is quite great.

To have enough breath to dive deeply where the best treasures rest, you should play with the maximum paylines – 25. The sum you spend per spin depends on the coin size you choose. For example, if you choose $0.02, you will play with only $0.50 per spin.
For real adventures Great Blue prepares the possibility to play with 20 coins per line. With the maximum coin size of $20, the max bet is $5,000. Uhh! Dare you to play online with such money to win 10,000 coins or $2,000,000.
Wild Symbol

Huge, kind Whale is the wild symbol. This massive creature will substitute for other symbols. Make sure to catch it stacked on the whole reels.
The prizes will truly impress you. Why? Because while substituting, Whale also doubles your prizes won. Twice bigger award – isn't it a dream of all our bets made? Whale just makes it come true.
Scatter Symbol

Shell with Pearl is the scatter symbol. Collect as more Pearls as possible and multiply your total bet by 500 times. Of course, if you play with incredible $5,000 bet, your prize will be $2,500,000.
Anyway, even if you play with just $5, you can get up to $2,500. Ocean really has a lot of presents for you. Be brave enough to investigate its depth.
Bonus Game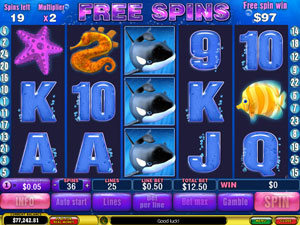 Sparkling waters with huge waves to control your mood. With at least 3 Shells scattered on the reels you will activate 8 Free Spins.
All your prizes will be multiplied by 2 times during this watery feature. But that is not the end!
Now you appear in the very bottom of the ocean. Choose 2 shells from 5 found. Thus, you win more Free Spins and better multiplier.
The maximum award available is 33 Free Spins and... prepare? 15 times multiplier!
Yeah! To stay alive in this rough waters you should win big. For example, 150,000 coins or $30,000,000.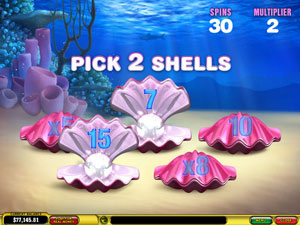 If it is not enough for such adventure as you, activate another bonus feature to win more. Gamble Feature can be a finding for the most risky players.
You win. Congratulate. Do you want to increase your prize? To double it? If yes, click Gamble button just after the winning spin.
Then choose the card colour. It can be red or black. If you guess right – the prize is yours. The maximum amount you can double your prize is $2,000.
Splash golden waters of happiness and great wins with online slot game to play now. Lucky fishing is guaranteed!
Author: Emily Stafford